You have the option to feature a number of products each month at no additional cost to your "Everything Else" subscription. In this article you can see more information about the subscription: Wallapop PRO Everything Else.
In this chart you can see the options of feature packs depending on your plan: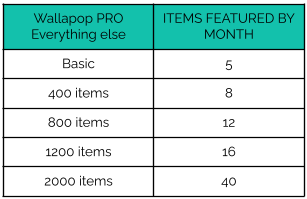 You will be able to feature in your area and the duration of the bump is 48 hours. For more information on how to feature you can consult this article: How do I feature an item?
To see your active products and manage your catalog on the web you must access the Products section and in the app you will find the option in your profile and in the Sales section.
Remember that, while the product is featured, it will attract more attention, since your ad will contain a wing icon.
In case you have more questions about the featured packs, please contact us through the button below.
Have more questions?